← Back to portfolio
What's best...Library or the Net?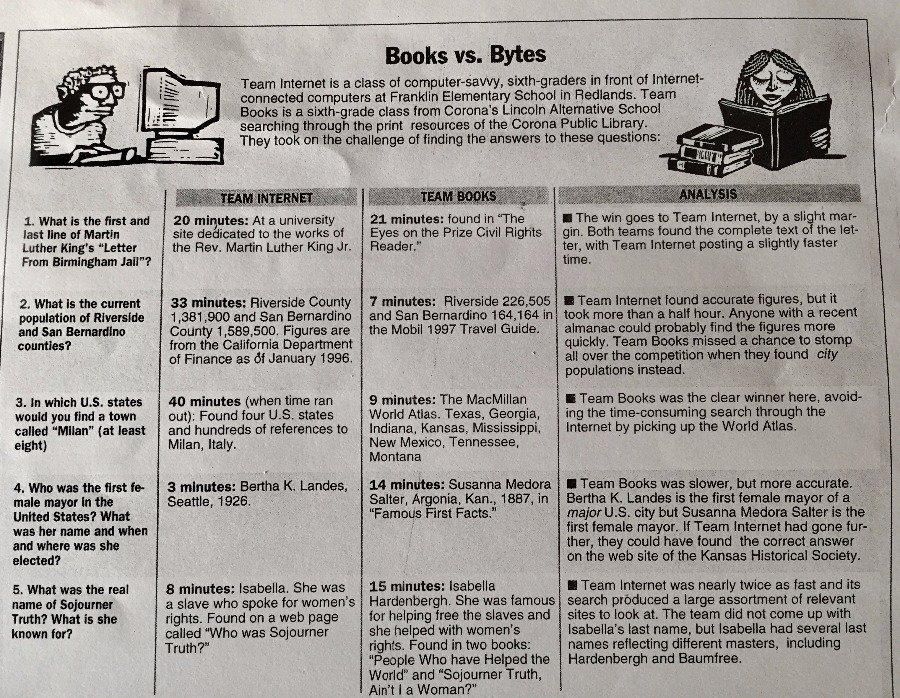 While educators remain divided over how much teaching value can be mined from a computer, many Inland area students are moving full-speed ahead along the Information Superhighway.

By Kris Lovekin
The Press-Enterprise
It took eight minutes for sixth-grader Jason Hafer to go from complete ignorance about Sojourner Truth to the knowledge that she was a former slave who spoke out on behalf of women's rights.
He made the trip while sitting in front of a computer screen at Franklin Elementary School in Redlands, looking at the World Wide Web site called "Who was Sojourner Truth?"
The same mental journey took 15 minutes for sixth-grader Taryn Merchant as she power walked through the book stacks of the Corona Public Library. Taryn, from Lincoln Alternative School in Corona, even came up with one of Sojourner's several slave names: Isabella Hardenbergh.
Whether research is faster and more accurate in cyberspace, or in a well-indexed library, depends on the skills of the searcher and the subject matter to be searched. But the debate over books vs. bytes goes deeper than speed or accuracy.
"A lot of things which give people context and give them a deep understanding come from broader reading and broader information sources," said William L. Rukeyser, former assistant to the state superintendent of public instruction.
He said the most expensive computer screen does not provide as clear and colorful a picture as National Geographic. And having a computer identify Kinshasa a the capital of Zaire is not the same thing as opening an atlas page and seeing Kinshasa's position on the African continent in the proper context, next to Brazzaville.
Politicians are jumping on the bandwagon

Dwayne Cowles, assistant principal at Franklin Elementary, said he loves books as much as anyone, and he is not going to pit books against computers. But one thing he likes about the Internet is that he does not have to get in his car and drive to the local library.

"My kids don't have access to the public library every day," he said. They do have access to the Internet.
While educators debate whether computers should take up a hefty hunk of the school day or be relegated to recess, politicians have jumped on the Information Superhighway bandwagon.
To prepare students for the 21st-century, Gov. Wilson and President Clinton have called for direct classroom access to the Internet – a parallel universe created inside the memories of linked computers all over the world, filled with facts, opinions, lies, literature, pictures, college classes and even pornography. Clinton made wiring schools for the Internet a focus of his 1996 State of the Union address when he said, "Every 12-year-old must be able to log onto the Internet."
And Governor Wilson's recent Digital High School proposal includes $500 million in state money to provide Internet access to every high school student within the next four years.
Access at schools varies by district

Every school district in San Bernardino County has some level of Internet access now, while connections in Riverside County schools vary widely. The Riverside and San Bernardino County education offices are using $35 million in state bond funds to help network schools to each other and to the Internet.
When the schools are hooked up and switches turned on, students are headed for an avalanche of information that contains educational gems.
A search for Thomas Jefferson pulls up myriad references, some that would be useful for a student report, some not, such as the course catalog of Thomas Jefferson College.
For some pupils easier than going to the library

Every classroom at Franklin Elementary has been connected to the Internet for two years and pupils have relatively free access, said Dwayne Cowles, an assistant principal who taught sixth grade before his recent promotion. He said students use the school's fully connected computer lab to study topics from Greek culture to the weather patterns on Jupiter. He said no school could afford to collect print reference materials to equal the information on the Internet.

"It's been a lot easier to find information on reports I've been doing," said Jason, the sixth-grader who found out about Sojourner Truth on the Internet. "You just type in what you need to find and you are there in just a couple of minutes. When you find a page, you read it over, and your brain just sucks all that knowledge in."
He said a book would not be as fast, or as fun.
"I'm more interested in computers, "Jason said. "You can print out the page instead of having to look through the whole encyclopedia."
Quick is not always best, however, at least according to Rukeyser.
"If kids are given the message, either overtly or subtly, that this is the way to do research, then schools are really failing in one of their prime missions, Rukeyser said.
For one thing, he said computer research is limited by the fact that most books and articles published before 1985 do not exist on the Internet.
For a librarian, books are still the best source

Susan Lopez-Daily, who has worked 19 years as a librarian and currently oversees children's services at the Corona Public Library, said, "For me the Internet is a plaything. It will never replace my reference collection. I'm a bibliophile."

When the library's two Internet connections were down for a day, Lopez-Daily did not miss them. In fact she found herself smiling. "My brain will not go down," she said. "They can't pull my brain out of the outlet like they can a computer."
She said library books have been screened and purchased by trained librarians. On the Internet, she said.  "You cannot gauge the credibility of the information you get."
Educators who have become their own school's technology wizards will agree that almost anything, from almost any source, could appear on the Internet.
"The kids have to look at the source, number one," said Mark Jones, a Temecula middle school teacher who was recognized last month for his expertise at an International Technology Education Conference.
"If they are not sure, they have to be able to back it up somewhere else," he said. Teachers routinely point students to websites operated by NASA, the Smithsonian Institution, museums, government agencies and other reliable sources.
"Hopefully we are going to keep them out of anything unreliable," Jones said.
Sometimes it is hard to tell. When Jason, the Redlands sixth-grader, and his teammates, were looking on the Internet for the answer to the question, "Who was Sojourner Truth?" they found a webpage with that exact title written by the people who run the Sojourner Truth House, a nonprofit homeless shelter and soup kitchen based in Idaho.
Reliability problems lead to limited access
Reliability, along with concerns about obscene, libelous or dangerous information, make some school districts limit direct student access to the Internet.
Kevin Brown, a teacher at Thompson Middle School in Murrieta, has two Internet connected computers near his desk so he can closely supervise student use. For class projects, he uses a device that projects the image from his computer onto a large pull-down screen, almost as if his pupils are watching a slideshow.
In Riverside Unified, technology mentor Joanne Butki selects areas for her fourth- and fifth-graders to look at, using an electronic bookmark to hold the page for them to look at later. These Pachappa Elementary School pupils have corresponded with research scientists, sent pictures of butterflies to a museum in Mexico City and captured pictures off of the World Wide Web.
Teachers help monitor with their people see
 Suzanne Alejandre, a teacher at Frisbie Middle School in Rialto, has created a wide variety of research links on the school's homepage and has reviewed them to make sure they contain no inappropriate material. She asks her pupils to try those pages first. She said pupils should use the Internet for education, not for finding the Dodgers homepage or checking out the latest movie reviews online.
Prem Bovie-Ware, an art and media teacher from Santiago High School in Corona, disagrees. She allows her students to look up the skateboard park in Northern California or the website that shows a picture of the waves crashing onto Huntington Beach.
She said the Internet is all about communication and making connections with other people around the state and the world.